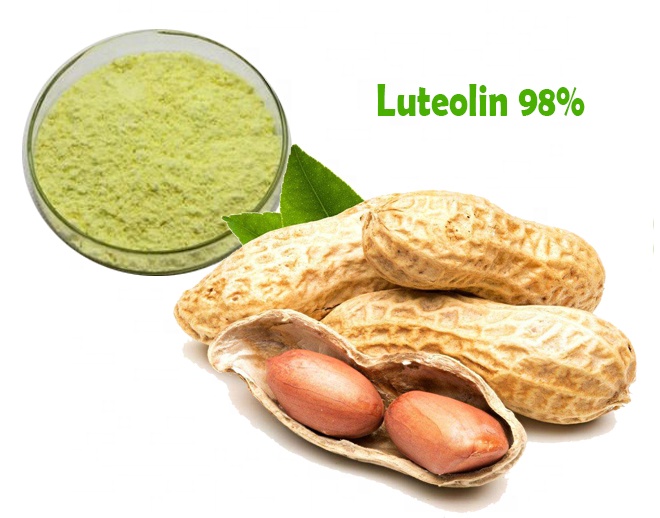 Luteolin powder CAS#491-70-3
$290.00 /kg
Description
Additional information
Description
Product name: Peanut Skin Extract


Latin name:Arachis hypogaea
CAS Number.:491-70-3
Molecular formula: C15H10O6


Active ingredient: luteolin


Part used: Shell
Assay:98%


Appearance:Yellow Needle Powder


Test method: HPLC
Luteolin is a naturally occurring molecule known as bioflavonoid, often found in foods including parsley, artichoke leaves, celery, peppers, olive oil, rosemary, lemons, peppermint, sage, thyme, and many others. Luteolin is thought to play an important role in the human body as an antioxidant, a free radical scavenger, an agent in the prevention of inflammation, a promoter of carbohydrate metabolism, and an immune system modulator.
Specification
| | | | |
| --- | --- | --- | --- |
| Product Name: | Luteolin | Part Used: | Fruit |
| Latin Name: | Arachis hypogaea L. | Extract Solvent | Water&Ethanol |
ITEM

SPECIFICATION

TEST METHOD

Physical Description

Appearance

Light Green Powder

Visual

Odor

Characteristic

Organoleptic

Taste

Characteristic

Olfactory

Bulk Density

50-60g/100ml

CP2015

Particle Size

95%-99% through 80 mesh

CP2015

Chemical Tests

Luteolin

≥98%

HPLC

Loss on Drying

≤1.0%

CP2015 (105 oC, 3 h)

Ash

≤1.0%

CP2015

Total Heavy Metals

≤10 ppm

CP2015

Cadmium (Cd)

≤1 ppm

CP2015(AAS)

Mercury (Hg)

≤1 ppm

CP2015(AAS)

Lead (Pb)

≤2 ppm

CP2015(AAS)

Arsenic (As)

≤2ppm

CP2015(AAS)

Microbiology Control

Aerobic Bacterial Count

≤1,000 cfu/g

CP2015

Total Yeast & Mold

≤100 cfu/g

CP2015

Escherichia Coli

Negative

CP2015

Salmonella

Negative

CP2015

Staphlococcus Aureus

Negative

CP2015
1.Luteolin is a hypoglycemic agent and improves insulin sensitivity. By promoting healthy glucose levels it is good for type 2 diabetics. At the same time it is thought to help with weight management which also would dramatically improve health;
2.Acting as an antioxidant and protecting the body from dangerous free radicals;
3.Externally luteolin can be used for skin allergic/inflammatory disorders and for skin cancer prevention;
4.Luteolin is a promising agent for use in ophthalmology.
1.Applied in food field, Luteolin is often used as food additives;
2.Applied in health product field, Luteolin is made into capsules with the function of vasodilatation;
3.Applied in pharmaceutical field, Luteolin can play the role of inflammation;
4.Applied in cosmetic field, Luteolin is often made into the products of losing weight.