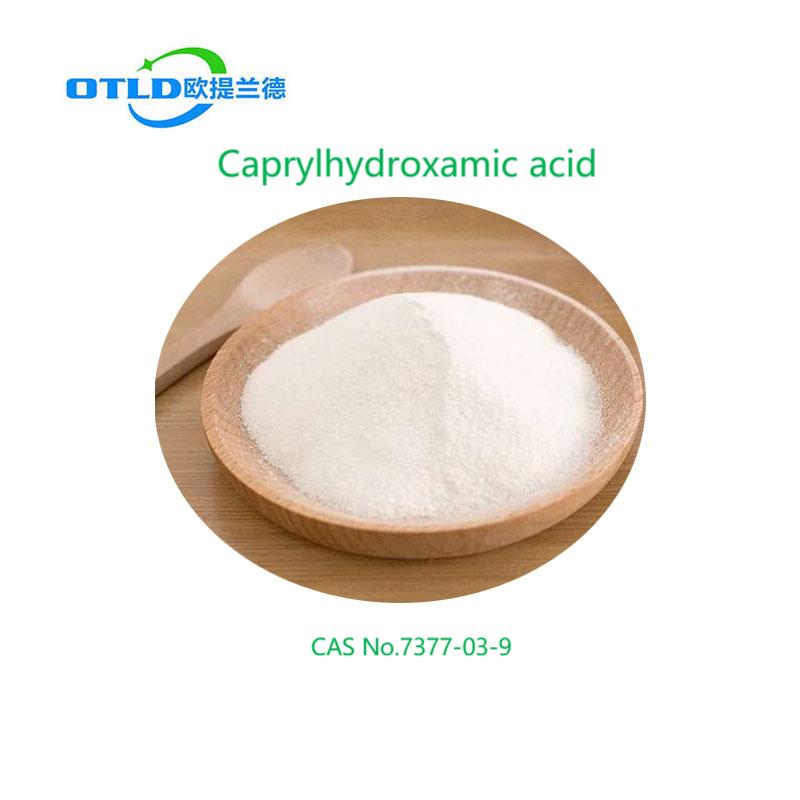 Caprylhydroxamic Acid Powder (CAS: 7377-03-9)(OTILAND)
$65.00 /kg
Product Name
Caprylhydroxamic acid
CAS No.
7377-03-9
Item
Specification                                            
Appearance
White or almost white
Purity (HPLC)
≥99%
Melting rangs
78.0℃~82.0℃
Loss on drying
≤0.05%
Chloride
≤0.05%
Residue on ignition
≤0.10%
Heavy metals
≤10PPM
Conclusion              Conform with specification
Description
Additional information
Description
Wholesale 99% Cosmetic Grade Caprylhydroxamic Acid Powder
Product name: Caprylhydroxamic Acid
CAS: 7377-03-9
MF:C8H17NO2
MW:159.23
Appearance: White powder/white crystal powder
Purity:98%min
Caprylhydroxamic acid could be used as a replacement for traditional preservative in cosmetics. It still has a highly effective anti-bacterial capability in neutral environment. However when under the same circumstances, the others will be weakened.
1. Caprylhydroxamic Acid can chelate with Fe2+ and Fe3+ excellently. Then, it can stop mold to get Fe.Caprylhydroxamic Acid has the best length(C8) of C chain to promote degradation of cell membrane structures.
2.Caprylhydroxamic Acid can take place of traditional preservatives when applied to the cosmetic.it is still effective when pH is neutral;
3. Caprylhydroxamic Acid is compatible with most cosmetic ingredient.
4. Caprylhydroxamic Acid may be used in emulsion,anhydrous and surfactant systems.these include creams,lotions,shower gels and make-up.