Natural Ferulic Acid
/kg
Description
Additional information
Description
Ferulic acid is extracted from rice bran. It is a off-white powder, soluble in hot water, ethanol, ethyl acetate, slightly soluble in diethyl ether, and hardly soluble in benzene and petroleum ether. Ferulic acid is widely used in supplements, food preservatives and healthcare.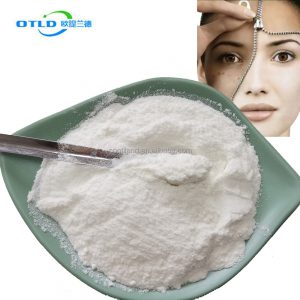 Ferulic acid has phenolic acid structure, is a weak acid organic acid, but also with a variety of strong antioxidants (such as resveratrol, vitamin C, etc.) synergistic tyrosinase inhibitors, can whitening antioxidant.
Product Name
Ferulic Acid Powder
Plant Source
Rice bran extract
CAS NO
1135-24-6
Assay
98%
Appearance
White Powder
Grade
Cosmetics Grade
Product Name:
Ferulic acid
Formula Weight:
194.18
Cas No:
537-98-4
Part Used:
Seed
Formular:
C10H10O4
Source:
Fumalic acid
ITEM
SPECIFICATION
RESULT
Appearance
White Powder
white powder
Purity, %
99.0 min
99.96%
Melt point, °C
152-156
153.4-154.1
Loss on drying, %
1 max
0.37
Residue on ignition, %
0.2 max
0.09
Heavy metals, ppm
1max
less than 0.10
Iron, ppm
10 max
7.00
Arsenic, ppm
1 max
less than 0.10
Chloride, ppm
100 max
25
Conclusion
It complies with the standard.
1.Ferulic acid powder is most commonly used in cosmetic products, such as creams, lotions, and serums. It is also used in some soaps. Many products with kojic acid are intended for use on the hands or face.
2. Ferulic acid is used in the food, health care products.