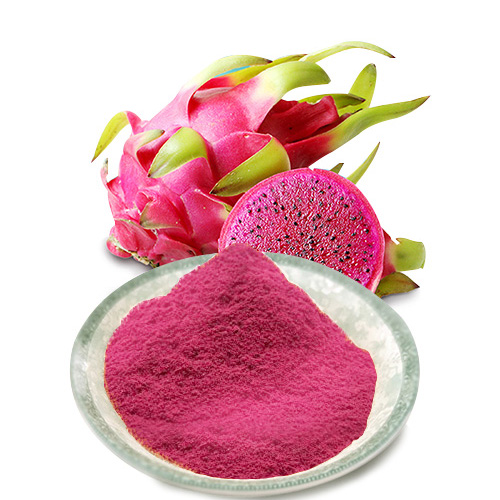 Dragon fruit powder
$15.00
Description
Additional information
Description
Dragon fruit powder is made of good fresh dragon fruit concentrate through the method of spray drying.It still remains both the flavour and  nutrition of dragon fruit. Our company's Dragon fruit powder has good  water solubility and very convenient for making drink.  So it has a unique fragrance and taste and full of energy and nutrition
Product Name:Dragon fruit powder/Pitaya powder
Latin Name: Hylocereus undulatus Britt.
Part used: Fruit (Fresh, 100% Natural)
Appearance: Red /White powder
Specification: Dragon fruit powder, spray dried powder, ratio extract 5:1-100:1
Extract Method:Water
Product Name

Dragon fruit juice powder

Botanic Name

Hylocereus undatus Britt. & Rose

Plant Part

fruit

Country of Origin

P.R. China

Test Method

TLC

Extract solvent

Water & Grain Alcohol

Appearance
light pink, redish,purple red find powder
Taste
Characteristic
Odor

Characteristic

 Description

The Dragon fruit has an unusually strong nutrition profile to match its bizarre appearance. This tropical superfruit is a source of omega 3 essential fatty acids, vitamin C, protein, fiber, magnesium, phosphorus, iron and is known to contain several B Vitamins including Thiamine (B1), Riboflavin (B2), and Niacin (B3), amongst others. Dragonfruit also contains many antioxidants including complex phytoalbumins and lycopene. It is a bonus that the fruit is low in calories, and it's comprised of complex carbohydrates that can easily be broken down by the body.

Function

1.Full of Vitamin C for Whitening skin;

2.Lose weight as higher water-soluble fiber;

3.Dispel internal heavy metal,detoxifcation;

4.Improve body immunity, protect eyesight

5.Lower cholesterol, anti-cancer

Package

1. Pack in aluminum foil bag for 1kg.(usual package for samples)

2. Pack in paper-drums and two plastic-bags inside. 10kgs or 25kgs/drum.

3. According to your requirements.

Shelf Life
2 years
Storage
Stored in a cool and dry well closed container and in ventilated area,

Kept away from moisture and strong light or high temperature.